previous post
, I was showing off the new American Models SD-60 I purchased. Right on the heels of that, the same seller made me an offer I couldn't refuse - four (4) S gauge 50 foot boxcars for a very reasonable price. All four boxcars are in the blue and white livery of - you guessed it - the Montana Rail Link railroad.
The boxes cars are a mix of
American Models
(3) and
Pacific Rail Shops
(1) 50 foot boxcars. Apparently the PRS car is something of a rarity.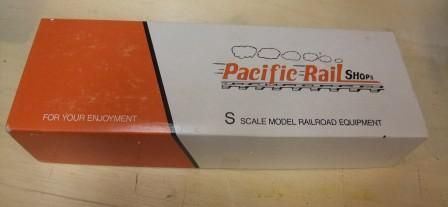 The original PRS box
From the limited information I received, I don't think PRS produced a kit of the MRL boxcars, but then my Google-fu is weak as I can't find a comprehensive list of PRS cars on the web. I think its a re-painted kit as the blue is a little off from the pictures of the real MRL stuff I've seen (and a little lighter than the American Models color as well.
The Pacific Rail Shops 50' car




About the only other thing I can find that is 'off' about it is that I think the decals and lettering are reversed. The plans I have of the prototype show that the logo and name should switched (the American Models car has it correct). I do like it as it has the "W" logo with the moutain lion head embelishment - something the American Models stuff lacks (but which is still correct).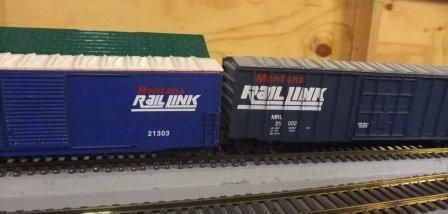 Good comparison of the PRS car (on left) with an American Models car
But the real treat was also unexpected. The seller included a unique American Models bay window caboose that is ALSO painted up for the Montana Rail Link. Its another custom paint job that is a little freelanced. Part of the problem is that I can't find a reference to the MRL using bay window caboosees, But still its a great addition to the collection.
You can see how it scales next to the American Models boxcar on the right. Plus its a nice shot of the brakeman standing on the back of the caboose.




This is a really great addition to my collection. The MRL are one of the few railroads to continue to use the caboose into the modern era of "Fred and Wilma" modern sensors and controls. No one makes a MRL caboose ready to roll in S. I was resigned to doing a quick paint job to renumber a Burlington Northern caboose to the MRL roster (there's a photograph of the prototype out there!)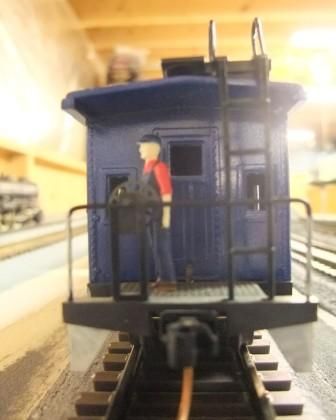 Close up of the back of the caboose. Unlike a new American models kit, this one has no window glazing or internal lights....for now!