I was able to complete my testing of various locomotives traversing the outer loop of the layout today. Both the
American Models 4-8-4 Northern
and the
American Flyer U33C
successfully traveled the outer loop including the rebuilt 'ridge' in the back of the layout. Each locomotive hauled the same consist - 4 freight cars and a heavy caboose (the new Lionel Great Northern caboose). The Northern had a little trouble - as to be expected - but the U33C cruised up the grade and around the layout.
Want proof? I actually shot some video of each train. Not the best footage, but it shows the trains in action.
Here's some overview shots that show the new 'lay of the land' on the ridge. Formerly, I'd planned to locate coal loader on top of this hill, but the revised track plan no longer supports that concept. So...I'm thinking that this space will become a neighborhood of small tract type homes with a small church. Sort of a typical lower to middle income area with small homes along a street with the railroad running across their back yards (not too different from what I grew up with back in the 70's).
Overview of the ridge community showing the tunnel for the middle loop.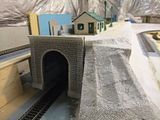 Oriented more to show the tunnel and how narrow the ridge has become.
The buildings will be the classic Plasticville Cape Cod homes.
Here's a show of the future 'East Yards" still need to lay the road bed for the sidings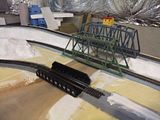 And a shot of the "East Fork" of the river. The inner loop's roadbed in the foreground.
On a related note, I stopped by Wally World the other day and found a neat addition for the scenery - an
Austin London Taxi
. The model is labeled as being 1:63 scale, so you can drop this in to your layout with little worry. (and you can drop it into your 25mm games as well - who doesn't need an unmarked black sedan to wish your VIP out of harms way).