You may have read my prior post regarding the
New York Central wreck train
.
This pretty little train suffered and electrical failure when it derailed. It took a couple of months and an appeal for assistance to Ron Bashita of
American Models
, but the problem has been identified and fixed!
When the locomotive derailed, it apparently shorted one of the electrical pickup wires in a truck.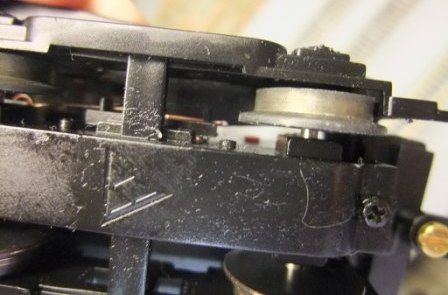 You can see the melted end of the wire just to the left of the upper wheel.
The short overloaded the tiny little phosphor bronze wire and half if it disappeared. As a result, the electrical power was not being picked up by all the wheels and the locomotive would just stop - especially on a curve, but really most any time it would just stop.
So after getting the requisite replacement parts from American Models, I grabbed the flashlight, the screwdriver and the tiny modelling pliers and tackled the job. Its really a case of pulling two screws, separating the bottom of the truck case and unscrewing the retaining screw for the pick up wire. Took me maybe 30 minutes and most of that was either trying to figure out how the truck separated or struggling to get the wire in the right position.
But now the locomotive runs....just in time for the upcoming spring train show season!